Semmelweis Egyetem
"Az orvos-, egészségtudományi- és gyógyszerészképzés
tudományos műhelyeinek fejlesztése" című,
EFOP-3.6.3-VEKOP-16-2017-00009 azonosítószámú
projekt-támogatás
Cardiopulmonary interactions, pulmonary rehabilitation and pulmonary circulation PhD Summer School
This conference focuses on the importance of physical activity and different pulmonary rehabilitation programs with new technologies in relation to new methological approaches in cardiopulmonary exercise tests. The discussion of the importance of circulation in terms of mechanical support and ECMO therapy and respiratory failure, oxygen supplementation are parts of the program. Pulmonary hypertension with different pathophysiological origin, targets and pulmonary hemodynamics during exercise are also in the focus of interest. Known successful research groups will present new experimental and clinical data. The scientific committee includes internationally-known speakers, leaders of the European Respiratory Society and European Society of Cardiology, post-leader of the American Thoracic Society, as well as Hungarian experts in specific fields.

We are waiting for Your participation to discuss these specific topics.

Budapest, 03/JUL/2020
med. habil. Janos T. Varga MD, PhD
Date
26-27 August 2020
Location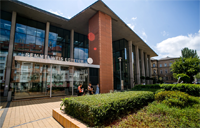 Basic Medical Science Center of Semmelweis University
H-1094 Budapest, Tűzoltó utca 37-47.
semmelweis.hu/eok/en
Official language
English
Chairman of the PhD Summer School
Dr. habil. János Tamás Varga, PhD
National Korányi Institute of Pulmonology
Program
Contact
Semmelweis University School of PhD Studies
Krisztina Tölgyesi Lovász
1085 Budapest VIII. Üllői u. 26. fszt. 9.
Tel: +36-1-266-7483
E-mail: tolgyesi_lovasz.krisztina@phd.semmelweis-univ.hu
Congress Secretariat
K&M Congress Ltd.
H-1064 Budapest, Podmaniczky u. 75.
phone: +36-1-3012000
send us e-mail
Registration deadline
14 August, 2020
Opening hours of the registration desk
Wednesday, 26 August: 08:00-17:00
Thursday, 27 August: 07:30-18:00
Registration fees
including 21,26% VAT
| | |
| --- | --- |
| PhD Students of Semmelweis University, University of Debrecen, Pécs or Szeged | 0.00 EUR |
| Participants | 50.00 EUR |
The fees include tuition fee, coffee, lunches on 26 & 27 August, and dinner on 26 August.
Meals
Lunch is included in the participation fee.
Procedure of payment
(bank charges must be paid by the Registrant)
1) online by bank card via a secure bank connection
2) via bank draft made payable to K&M Congress, account no: IBAN HU28 1040 0212 5052 6666 7250 1014
K&H Bank, H-1095 Budapest, Lechner Ödön fasor 9. Swift code: OKHBHUHB
Cancellation and refund
In case of cancellation
31 July 2020 80 percent refund of the fees paid;
from 31 July 2020 no refund.
Refund requests must be submitted to the Conference Secretariat in writing.
Registration